We are continuously enhancing and improving our management system in order to be a faithful company that has a meaningful presence in society.
CSR Framework
In order to enhance our overall corporate values and to fulfill our corporate social responsibility, we are always trying to improve our system of corporate governance, through which we establish our management objectives and to correctly implement the initiatives for achieving the goals.
Corporate Governance Structure
We have a Board of Directors, an Audit and Supervisory Board and Accounting Auditors, al l of which are indispensable corporate organs for our company's management.
In addition, we have improved management efficiency by appointing Corporate Officers, to separate supervision and execution, as well as enhanced our corporate governance system through the system of internal audit and evaluation of internal control.
Internal Organizations
Board of Directors
This is the internal organization that makes management decisions on strategy and management targets.
To clarify the management duties and responsibilities for the fiscal year, each Director is appointed to a one-year term of office.
Audit and Supervisory Board
This is the internal organization that is responsible for supervising the Directors' execution of operations and other operational control systems.
Outside Audit and Supervisory Board Member s are also appointed.
Accounting Auditors
Ernst & Young ShinNihon LLC handles our external auditing.
Corporate Governance Structure Chart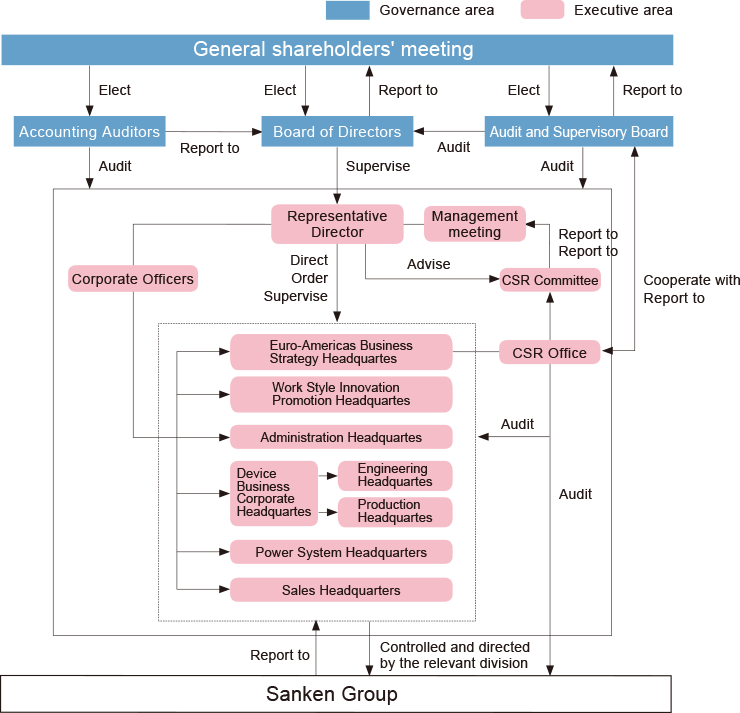 Organizational Structure
We are committed to achieve sustainable growth in our corporate values by promoting responsible corporate actions and conducts.
The CSR is delegated with the authority to promote our CSR activities as a cross-sectional dedicated internal unit in order to educate the entire organization spread and take necessary actions to bring about practical outcome.
CSR Committee
Basic Policy
Compliance with management principles
Economic, legal, and ethical risk control
Disclosure of activity results and discussion with various stakeholders
The CSR Committee, consisting of General Managers, controls the entire CSR activities done by Sanken group of companies.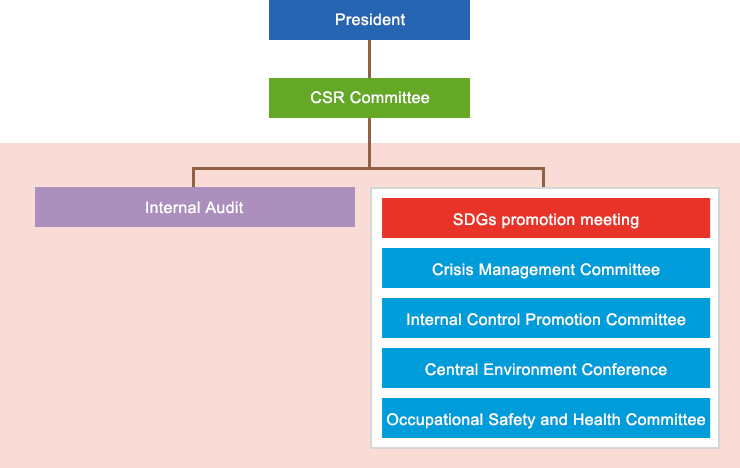 Internal Control Promotion Committee
The Internal Control Promotion Committee, chaired by the Head f the Administrative Division was established in order to maintain the good standing of, and to promote wide ranging actions of, the system that guarantees reliable financial reporting under the Financial Instruments and Exchange Act.
The Committee is created to give support for inspections conducted by each of the operational divisions of the Company and its group companies, and to review and evaluate the efficacy of the company-wide and operation-specific internal control activities.
As part of the internal control activities for FY March 2016, the Committee was primarily involved in the two focus areas; how well the ERP system migration process and resulting changes in specific operations were handled, and how much standardization of operational processes prompted review of the conventional practices and enhanced efficiency.

Internal Audit
Sanken implements "internal audits," which are aimed at checking whether or not compliance with ethics, and laws and regulations in accordance with the guidance described in the "Conduct Guidelines," our code of conduct.
Our auditing method consists of a focused review of several themes, the selection of which is based on the materiality and the scope of impact, evaluated through the risk-based approach, as well as a wider use of the computer assisted auditing techniques to tailor the focus themes to be best aligned with the needs of the executive management.
The results of internal audits are reported to the executive management and Audit and Supervisory Board members, and reflected in the operational modifications and improvements for each of our group companies.
In addition, we foster our employees' understanding of compliance, by offering training courses through such diverse methods as e-learning materials and booklets, and issuing internal periodicals on compliance that describe relevant real-life cases.