We aim to exercise Corporate Social Responsibility (CSR) by practicing our management principles
Sanken Group's CSR
Sanken's framework of fundamental corporate principles consists of the Management Principles, the Behavioral Guides, and the Conduct Guidelines, which is our code of conduct.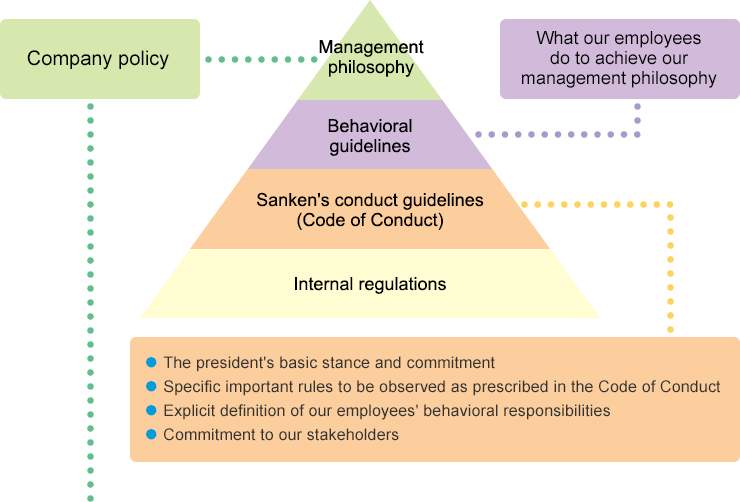 Management Principles
With semiconductors as our core business, our mission is to offer optimized solutions for power electronics and their related areas and contribute to the development of the industry, economy, and culture of countries around the world.
We constantly strive for innovation in our technology and creativity, and pursue reliable quality.
We also share our customers' values and expand our business globally by mobilizing our own technologies.
We respect each of our employees and interact with of them in a fair and just manner.
Furthermore, our employees strive to be reliable individuals and businesspeople.
As businesspeople engaged in technology and creativity, we will conduct our business with a deep sense of ethics and interact with our customers and partners in fair manner and with decency.
We will maximize the value of our company for our shareholders, fulfill our social responsibilities, and strive to act in harmony with the environment.
Sanken Electric Co., Ltd.
Sanken Group of Companies
Our basic CSR policies were drafted based on the system of fundamental corporate principles described above.
Sanken Group's Basic CSR Policies
To behave fairly and impartially in accordance with the ethics, laws and regulations




Our company is a member of society and lives up to society's trust by conducting its business in a fair and decent manner.

To offer energy-saving products created with our comprehensive technical capabilities




In order to build a sustainable social environment, we endeavor to mobilize our own technologies that solve environmental issues.

To build favorable relationships with stakeholders




Whenever necessary, we talk and cooperate with the individuals, groups, and regions that have various relationships with us.