Sanken Develops Non-isolated Board Type POL Converter Module
BR200 Series
Featuring fast response to rapidly changing loads
June 18, 2013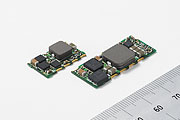 Sanken today announced the development of a non-isolated step-down POL* converter module, the BR200 series. The new series features a lineup of seven products with an output current of either 10 A or 20 A. Samples of the BR200 series will be available from the end of June.

Mass-produced units are scheduled to be available from July this year. The BR200 series will initially be produced on a scale of 10,000 units/month, to be expanded to 100,000 units/month by April 2014. Samples of the BR200 series will ship at a unit price of JPY 1,800 for 10 A models and JPY 2,700 for 20 A models.
*Point of load
POL converters: DC/DC converters that are placed on the board close the LSI (FPGA, DSP, etc.) as a dedicated power supply circuit.
1. Development Background
The amount of information transmitted and received continues to increase with the rapid proliferation of ICT devices and services such as smartphones and cloud services.

In response to this trend, the control power supply used for the FPGAs, DSPs, and MCUs that are the core components of these ICT devices must also be able to support lower voltages and higher output currents. DC/DC converters, which are commonly used as the control power supply, are therefore required to have low voltage and high current specifications, and a fast response to rapidly changing loads.

Sanken has developed the BR200 series of POL converters. These converters are placed close to the FPGA, DSP, or MCU on the board and provide a low voltage and high current output. The BR200 series is a lineup of non-isolated step-down DC/DC converters that offer a fast response to changing loads and a low profile, making them easy to mount. These converters provide a stable supply of output power to the FPGA, DSP, and MCU components, whose loads fluctuate quickly and sharply. The low profile also enables high-density mounting, contributing to the development of more compact equipment.
2. Product Features
(1) High efficiency
94.7% typ. (BR204: when VIN = 12 V, IO = 10 A, and VO = 5.0 V)
(2) Fast response to changing loads
10 A model: ΔVO = 122 mV when VIN = 12 V, VO = 3.3 V, IO = 1 to 8 A (approx. 30% improvement compared with other Sanken products)
20 A model: ΔVO = 60 mV when VIN = 12 V, VO = 3.3 V, IO = 2 to 18 A (approx. 40% improvement compared with other Sanken products)
(3) High load regulation performance
10 A model: ΔVO = 1.98 mV when VIN = 12 V, VO = 3.3 V, IO = 0 to 10 A
20 A model: ΔVO = 12.9 mV when VIN = 12 V, VO = 3.3 V, IO = 0 to 20 A
(4) Low profile
Height: 4.2 mm max. (fits 10 mm pitch card slot)
(5) One-sided mounting
Improves mountability.
(6) Cut through hole
Greatly improves solderability and mountability.
(7) Other features
"Power good" signal can be output to monitor the operating status of the power supply.
Output can be switched on and off.
Remote sensing
Soft start
Overcurrent protection circuit
Overheat protection circuit
(8) EMC noise
Complies with VCCI class A, CISPR22 class A, and FCC part 15 class A.
3. Applications
Power supplies for communications equipment, servers, computers, storage devices, image processors, IC testers, and semiconductor fabrication equipment
4. Key specifications
10 A type
Item
BR200
BR201
BR204
BR205
Input voltage range
7 to 14 V
12V±10%
4.5 to 7V
Efficiency
88.5% typ.
(VIN = 12 V,
VO = 1.5 V,
IO = 10 A)
93.2% typ.
(VIN = 12 V,
VO = 3.3 V,
IO = 10 A)
94.7% typ.
(VIN = 12 V,
VO = 5.0 V,
IO = 10 A)
94.5% typ.
(VIN = 5.0 V,
VO = 3.3 V,
IO = 10 A)
Output voltage
variable range
0.75 to 1.65V
1.60 to 3.63V
1.60 to 5.50V
0.75 to 3.63V
Dimensions
20.32mm(W)x 11.43mm(D)x 4.2mm(H)
20 A type
Item
BR202
BR203
BR206
Input voltage range
12V±10%
4.5 to 7V
Efficiency
86.1% typ.
(VIN = 12 V,
VO = 1.2 V,
IO = 20 A)
92.3% typ.
(VIN = 12 V,
VO = 3.3 V,
IO = 20 A)
93.1% typ.
(VIN = 5.0 V,
VO = 3.3 V,
IO = 20 A)
Output voltage
variable range
0.75 to 1.65V
1.60 to 3.63V
0.75 to 3.63V
Dimensions
33.02mm(W)x 13.46mm(D)x 4.2mm(H)