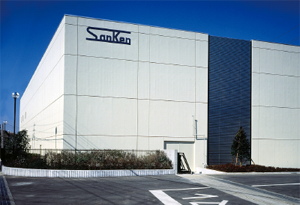 Introduction
In September 1946, Sanken Electric Co., Ltd. was founded as Toho Sanken Electric in an area known today as Shiki City in Saitama Prefecture, as a spin off from Toho Power Institute for Industrial Research, a power company laboratory.
Since relocating in 1952 to an adjacent municipality known today as Niiza City, Sanken Electric has been based in Niiza ever since and grew to enjoy the good fortune to celebrate its 70th anniversary on September 5, 2016.
Over the past 70 years, we at Sanken Electric Co., Ltd. have endeavored to provide optimal solutions for power electronics and its related areas, and successfully established our strong presence by sharing our customers' values.
In the future, we are committed to continuously fulfill our corporate responsibilities by creating new value through innovation in the growing field of power electronics.
In our core semiconductor business, we offer our globally extensive network of customers a wide range of latest-technology, high value-added products, including the ever-on-growing-trend automotive ICs, the high-growth potential motor control ICs, the power conversion ICs for industrial and home electronics, and the power discretes, to name a few. In addition, we supply our customers with unique products, such as power modules that integrate in a quite advanced manner our circuit technology and device control technology based on our long-cultivated experience and knowledge, and power supply equipment, or power systems, that symbolizes our strenuous and incessant efforts we have made ever since our beginning.
We sincerely wish to be a company that can continuously offers diversified array of critical solutions in every corner of power electronics.
Sanken's CSR Endeavor
At the time of our founding, we solemnly declared our commitment "to contribute to the development of industry, economy and culture." This conviction has been passed down and reiterated in our management principle, which states "With semiconductors as our core business, our mission is to offer optimized solutions for power electronics and their related areas and contribute to the development of the industry, economy, and culture of countries around the world."
In furtherance of this management principle, we have been making CSR-related efforts aligned with the development of the industry, economy, and culture, but at the same time coordinated with such perspectives as "engagement with the challenges of society," "focused and transparent corporate management," and "conservation of global environment."
In particular, we are convinced that our main business, the development of products related to the most efficient method of power conversion and control, will certainly be conductive to "the conservation of global environment."
In fiscal year March 2016, we started our three-year Mid-term Management Plan and have endeavored to achieve the Plan's targets, with a slogan, "Power Electronics for Next 'E' Stage," representing the core spirit of the Mid-term Plan.
This Mid-term Management Plan was drawn by visualizing what we would very much like to be in ten years and discounted back this ought-to-be to the immediate 3 year period to show how we would get closer to the ultimate long-term goals.
In our strategic focus areas of application, such as automotive devices and components, white goods home appliances, various forms of electric motors, industrial devices, telecommunication, renewable energy and LED markets, we conduct business mainly in geographical markets rapidly growing in the world and enjoy doing business in promising markets and with hopeful customers.
As we shaply gaze at the changing tide of the times and earnestly aim for sustainable co-existence with the society, we have gained a leadership position in the power electronics industry, supported by our customers' confidence in our advanced technologies and evidenced by our 70-year track record in the industry.
By fully leveraging all of our strong element technologies, including semiconductor fabrication technology, assembly technology that encompasses all of ICs, LEDs, and sensors; circuit technology reflected in the topology of our power supply circuit boards, and systems technology to build a large-scale power supply equipment, we are committed to continue to offer a wide variety of environmentally friendly and energy-saving products for the betterment of life in our society.
Ever Pressing Ourselves Forward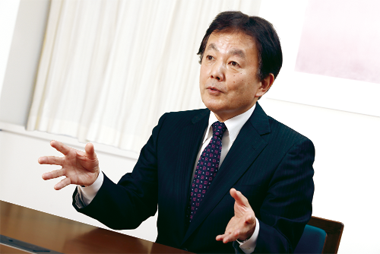 In recent years, negative impact on environment caused by increased energy demand and in some instances constraints on the supply of energy prompted various governments to adopt stricter environmental regulations.
For example, Japan's energy-saving regulations, the International Energy Star Program, Europe's ErP Directive, the US's EISA 2007, etc. will be affecting the minimum efficiency factor of power supply circuitry.
Furthermore, fuel efficiency and emission regulations imposed on autos are being upgraded around the world.
We will strive to meet our stakeholders' expectations by demonstrating our strengths, even under the ever-changing business conditions, by meeting challenges head-on and moving proactively to offer the highly dependable environmentally-friendly and energy-saving products eagerly sought by our society.
At the same time, we will reformulate our framework for better corporate governance by ensuring a higher level of compliance and effective risk management in order to achieve focused and transparent corporate management.
In addition, we aim to achieve a critical balance between "work style improvement" and "growth business strategy", to stay relevant to the society as a group of affiliated companies.
Always keeping an eye on the work-life balance, we run the company in such a way that employees can confortably work and easily feel their own professional growth, through such efforts as "continuous reforms" and "investing in human resources" to nurture people and thereby to secure the future growth of business for the company.
To stay competitive in the ever-changing market dynamics of the 21st century and deemed indispensable to solve the societal needs, we will strive to CSR-sensitive management by combining both of our business conducts and our CSR activities to get the ultimate corporate objectives achieved, trying to garner more trust from all of our stakeholders, and making utmost effort to be highly regarded as a valuable company that globally "contributes to the development of industry, economy, and culture."
We hope you read through the whole volume of this CSR Report and gain a deeper understanding of our commitment toward CSR.
President and Representative Director,
Sanken Electric Co., Ltd.
June 2017